After two seasons, which Dak Prescott do Cowboys have?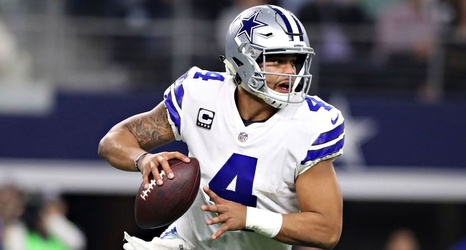 As the Dallas Cowboys look to 2018, they have to wonder what exactly they have in quarterback Dak Prescott.
Do you look at what he has done over the first two years?
He has won 22 of his first 32 regular-season starts. Since the 1970 merger, only Russell Wilson has more wins in his first two seasons (24). His 45 touchdown passes are 11th best. His interception percentage (1.79) is second best, with 17 picks in his first 32 starts. He is 11th in passing yards (6,991) and is the only Cowboys starter with consecutive 3,000-yard seasons to open his career.
Or do you simply focus on what Prescott did in 2017?
His 13 interceptions were more than three times as many as he had as a rookie. He had 22 touchdown passes, which was one fewer than he had as a rookie. His completion percentage dipped from 67.8 percent to 62.9 percent. His yards per attempt fell from 8 yards to 6.8 yards. He had eight games in which he threw for less than 200 yards, compared with just three as a rookie in games he started and finished.
In the 6-0 win against the Philadelphia Eagles, Prescott completed 17 of 30 passes for 179 yards, but 52 of those yards came on back-to-back plays on the Cowboys' 99-yard scoring drive.
"It's a tough league. As a rookie I kind of said, I don't know if I took the true toughness and how hard this league was for granted because of the way we came in and the way we just kind of rolled," Prescott said. "I'm not going to say it was easy last year by any means, but it was much different from this year. This year, the ups, the downs, the different aspects you could say, the hits the team took from outside sources, from suspensions, from everything, it was a tough year. But I learned a lot from it. I wouldn't change anything from it because I'm going to learn from it, most definitely.
"I would change that we would go to the playoffs, obviously if I could change it, but what I mean is I'm going to learn from everything that has happened this year and move forward and become a better player and a better person."
To start the season, the Cowboys won almost because of Prescott's ability to make things happen on his own. It took time for the running game with Ezekiel Elliott to get going. In the Week 3 win at Arizona, Prescott willed the Cowboys to a win, catapulting into the end zone on a touchdown run and making plays outside the pocket when things broke down with big passes to Brice Butler.
He had three straight games with three touchdown passes (Los Angeles Rams, Green Bay Packers and San Francisco 49ers).
But the Cowboys lost to the Rams and Packers.
He admitted after the Philadelphia win he will play the what-if game on what he could have done to get the Cowboys back to the playoffs.
"I mean every human does. I kind of don't want to and get it out of my head," Prescott said. "It's over with, there's nothing that can be done. I'm only going to get more pissed, more aggravated if I think about if this happens or that happens we win, so it's about just swallowing it, taking the bullet and accepting the fact that we're out of the playoffs, we're out of it. What I got to do is get myself better individually to help this team moving forward next year."
Because of the Cowboys' style of play, a quarterback's numbers will not be big. As good as Prescott was when he won the Rookie of the Year award, he had two 300-yard passing games. Prescott's best traits can't be measured: his leadership and willingness to do whatever, however, to get the job done.
Through the first eight games of the season, he had 16 touchdown passes and four interceptions. He closed the season with six touchdown passes and nine interceptions. Four of his interceptions were returned for touchdowns. He had a fumble returned for a touchdown, too.
Was this the sophomore slump some predicted or a team that lost its way without Elliott and got exposed in pass protection (eight sacks) against the Atlanta Falcons?
"I think I played some of my best ball of my career this year and obviously some of my worst ball of my career this year. You can call it what you want. Like I said, I learned from it. I'm going to call it a growing year. It's still a winning season for us. We're 9-7. We're going to grow off of that and keep moving forward."
There could be changes -- big or small -- with the Cowboys' offense in 2018. Will coordinator Scott Linehan return? Will quarterbacks coach Wade Wilson return? Will offensive line coach Frank Pollack be back?
But Prescott will return. The Cowboys have cast their lot with Prescott, but in 2018 he has to show he is more the 2016 Prescott than the 2017 version.
"I just have to continue to get better. There's not one aspect of my game that I say, 'If this improves we're going to be the most prolific passing offense there is,'" Prescott said. "It's just all around. It's every part of my game from keeping my feet balanced, better in the dropback game, consistently more accurate, great decisions all the way around. It's just something I have to continue to work on."
Did you know you can watch NFL Red Zone right from
www.dcstands4.com?
Just click on the LIVE STREAM tab, select "show all content" if the browser asks you to and allow flash. To watch the LIVE #Cowboys games, even if it's not on in your area, follow #DCstands4 on Twitter as the stream links can change weekly.
After two seasons, which Dak Prescott do Cowboys have?
Reviewed by
Unknown
on
10:00:00 AM
Rating: