Cowboys LB Jaylon Smith says he's back to being an elite player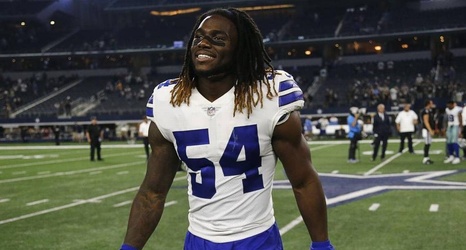 Jaylon Smith feels he's back to being an elite player.
The Dallas Cowboys linebacker is second on the team with 97 tackles, according to the coaching breakdown, and has one sack, three tackles for loss, four quarterback pressures and two forced fumbles.
"About Week 9 was really that turning point where I really felt like I'm back to the old Jaylon Smith that you guys are used to seeing," Smith said. "Each game I improved. I feel elite again. It's a great feeling and knowing I'm able to contribute at a high level for America's team, it's going to be some great years to come."
It's been quite the journey for Smith. Some thought he may never even be able to play in the NFL after tearing the anterior cruciate and lateral collateral ligaments in his left knee, as well as sustaining damage to the peroneal nerve in the 2016 Fiesta Bowl.
But the Cowboys were confident that Smith would return to action and used their second-round pick on him in the 2016 draft. He rehabbed all of last season, worked his way back into practices and will play a full 16-game season.
Smith understands the significance of that considering the odds he's already overcome.
"Longevity is the big thing," Smith said. "For me to be able to put together a full season is a great feeling, a huge accomplishment but it's just the beginning."
Smith has started six games this season, filling in when injuries kept linebackers Anthony Hitchens and Sean Lee on the sidelines. He's played 56.6 percent of the defensive snaps (560 of 989), playing as many as 69 and as few as 14 in a game.
"I'm back," Smith said. "I feel like myself. It's very encouraging moving into next season."
Smith feels he'll only grow from here and the coaching staff agrees. Additionally, he said he no longer has to undergo tests on his knee.
"He's grown a lot during this season," coach Jason Garrett said. "He's played a lot of snaps and I think he's one of those guys who from week to week continues to get better because of his approach. He's certainly come a long way from those discussions we had prior to his draft, whether or not he was going to be able to play at all at this level. Inspirational to us, how he's approached it and then really how he continues to approach it. It inspires us to see him get better and better every day. His future is very bright."
Added defensive coordinator Rod Marinelli, "It's an incredible story as we all know. To see this guy just constantly work all year, battle all the way through everything. He's a special man. Special."
Did you know you can watch NFL Red Zone right from
www.dcstands4.com
? Just click on the LIVE STREAM tab, select "show all content" if the browser asks you to and allow flash.
To watch the LIVE #Cowboys games, even if it's not on in your area, follow #DCstands4 on Twitter as the stream links can change weekly.
Cowboys LB Jaylon Smith says he's back to being an elite player
Reviewed by
Tzuki
on
7:00:00 PM
Rating: