What Ezekiel Elliott did in his six weeks off in Cabo, Mexico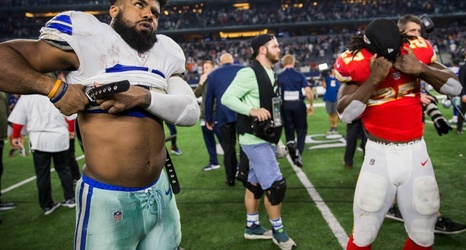 Ezekiel Elliott will return to the Cowboys on Monday a little lighter after spending six weeks of intense training in Cabo San Lucas, Mexico, according to a report by
NFL Network
.
Elliott was visited by several mentors as well, including Eric Dickerson has been among the players who went down there.
"He said that he's gonna get 200 yards in his return,"
Dickerson said to TMZ Sports
. "I said, 'No, you not gonna get no 200 yards.' So the bet is that if he gets 200 yards I have to give him one of my jerseys. It'll be one of my special jerseys that I played in, and if he doesn't get 200 yards he has to give me a jersey he played in."
"Obviously, we can't have contact with him and understood that he was gonna get away and really focus on getting himself in better shape. I think he was playing a little heavier than he did last year. I think he was wanting to lose some weight and really recommit himself to the game. Obviously, serving the suspension, you could argue that it was a little on the heavy side, but in spite of all that, he made some poor decisions and he paid a price for it. I think he understands that and he wants to be committed to the game and be one of the great players to play the game and certainly he can do that if he has his commitment and he's accountable to what he can be.
"Our expectation is that he comes back ready to play and hopefully even better than when he left, so if he can do that and we get us a big win against Oakland, then certainly we feel like that we can run the table."
Elliott will return to The Star Monday after six weeks of banishment.
Elliott wasn't allowed to step foot on Cowboys facilities or contact the team during his six-game suspension for violating the NFL's personal-conduct policy. The league announced Aug. 11 that its investigation had found Elliott used physical force in 2016 against his then-girlfriend.
After legal twists and turns, the running back began serving the suspension last month. Elliott last played in the Cowboys' Nov. 5 win against Kansas City.
Cowboys expect hype when he returns Monday.
"I know, having to talked to him, how excited he is to be back and how much he's missed being around here,"
center Travis Frederick said Wednesday after practice
. "So when he first comes back, you can see then the excitement from him. And I think you'll see that permeate throughout the team."
"It's going to be energy, a lot of happiness, just excitement," right tackle La'el Collins added Thursday. "I know he's ready to rock."
Elliott's dynamic on the field in everything from running and pass-catching to play-action and blocking. He rushed for 783 yards and seven touchdowns in the eight games he did play this year, catching another 51 balls for 573 yards and three scores. Elliott's also the NFL's defending rushing champ.
Cowboys offensive coordinator Scott Linehan said he isn't worried about Elliott returning to form. If anything, Linehan said, Elliott will have fresh legs after six weeks without battling the injuries and hits the rest of the league has continued to take.
"I'm sure he's in shape," Linehan said. "I'd be shocked [if he weren't]. I mean, he's really a world-class athlete, he stays in shape, and he trains. I'm sure he's been doing that."
Elliott's return will mean fewer opportunities for Alfred Morris and Rod Smith, his replacements through the stretch. Morris has started, while Smith has appeared less frequently but with high production. Smith has scored four touchdowns in the Cowboys' last three contests after scoring none his first 28 career games.
What Ezekiel Elliott did in his six weeks off in Cabo, Mexico
Reviewed by
Unknown
on
3:00:00 PM
Rating: