Goals, milestones, pride give Cowboys something to play for in Philadelphia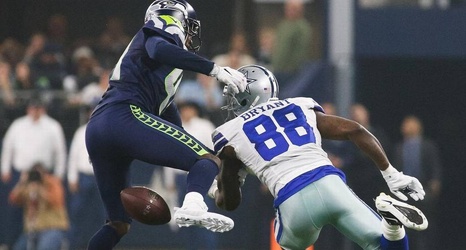 Final game or not, the Dallas Cowboys won't be able to totally relax against Philadelphia Sunday.
The Cowboys (8-7) were eliminated from the playoffs after a 21-12 home loss against Seattle last week.
The Eagles (13-2) have won the NFC East and secured home-field advantage throughout the NFC playoffs.
So what's on the line?
Pride and – in the case of some backups – jobs. There are also personal goals and team goals to complete.
Contrary to popular belief, there's no such thing as a meaningless game in the NFL.
Throw in the rivalry aspect of the game and it's still business as usual for the Cowboys and Eagles, but perhaps not as much for the starters.
Eyes on Dak
Dak Prescott had a sensational rookie season. The same can't be said for his sophomore campaign. Prescott has been intercepted 13 times, the most he's thrown in a season, college or pro, and has failed to throw for 200 yards in seven games. The past seven games, Prescott has been intercepted more times (nine) than he has touchdown passes (five). Nobody is questioning whether Prescott is still the future of the franchise, but he'd also like to end this season on a positive note.
Zeke watch
Ezekiel Elliott had a solid return, rushing for 97 yards on 24 carries. The biggest controversy was why the coaching staff didn't run him when the Cowboys were inside the Seahawks' 5-yard line. Either way, Elliott still has to do something remarkable, considering his six-game suspension, to reach the 1,000-yard mark for a second consecutive season. Only Hall of Famer Tony Dorsett started his Cowboys career with consecutive 1,000-yard seasons. Elliott needs 120 yards to reach that mark, a yardage he's surpassed twice in nine games this season.
Bryant concerns?
Questions have been raised whether Dez Bryant is still an elite receiver. He's yet to have a 100-yard receiving game and has been prone to dropped passes this season. Despite being healthy all season, Bryant is on track to go a third consecutive season without 1,000 yards and double-digit touchdowns. Prescott even took a subtle shot at Bryant after the Seahawks game. Maybe facing the Eagles will help Bryant end on a positive note as he's caught 61 passes for 951 and nine touchdowns in 12 career games against Philadelphia.
The Tank
Defensive end DeMarcus Lawrence had a breakthrough season at just the right time – in a contract year. Lawrence could be staring at a franchise tag come spring. Lawrence has 14.5 sacks, a half sack behind Arizona's Chandler Jones (15) for the NFL lead. Lawrence could very well finish as the league's sack leader, which would be the franchise's first since DeMarcus Ware did so in 2010. But Lawrence had no sacks in the first meeting against Philadelphia.
Chasing 100
Linebacker Jaylon Smith made an impressive return to the field this season. Even though he had his share of struggles, Smith has flashed promise in his first active pro season. He's just three tackles away from the 100 mark, according to the coaches' breakdown. That'd be quite a feat for a guy who some thought would never play after a devastating knee injury in his final college game. Smith is second on the team in tackles with 97. Linebacker Sean Lee is already at the 100-mark as he's been credited with 105 despite missing five games. And fellow linebacker Anthony Hitchens has a shot at 100, too, as he sits third on the team with 89.
Did you know you can watch NFL Red Zone right from
www.dcstands4.com
? Just click on the LIVE STREAM tab, select "show all content" if the browser asks you to and allow flash.
To watch the LIVE #Cowboys games, even if it's not on in your area, follow #DCstands4 on Twitter as the stream links can change weekly.
Goals, milestones, pride give Cowboys something to play for in Philadelphia
Reviewed by
Tzuki
on
6:00:00 PM
Rating: