Jerry Jones says win in final game trumps position for higher draft pick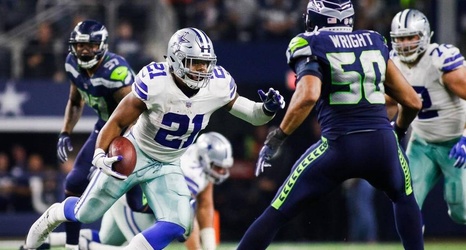 Dallas Cowboys owner Jerry Jones didn't hesitate when asked if winning Sunday's season finale against the Philadelphia Eagles and finishing 9-7 is important even it costs the Dallas Cowboys a better draft pick.
Jones said finishing the season with a good taste their mouth and feeling good trumped an 8-8 record and a higher pick in the 2018 NFL Draft, which will be held at AT&T in Arlington.draft
"
"I think 9-7 is important to us," Jones said on his radio show on 105.3 The Fan. "I mean that. And the draft position between 9-7 and 8-8 is not going to make that kind of difference in my mind relative to everyone feeling good and the performance that we have up there. So, I think that answers your question. The premium will be on each individual and each coach doing the job that we liked to have done all year long. We are going to go up and compete."
It will be a role reversal for the two teams who were in opposite positions in the season finale a year ago with the Cowboys heading the playoffs with the league's best record and the Eagles playing out the string.
It's a situation that's not lost on Jones.
"Everything we are doing we want to leave as good a taste in our mouths as we can against this Philadelphia team, one that should be quite a contender in the playoffs," Jones said. "They have got the spot we'd love to have had. So, we want to go in there and feel good individually each player, each coach feel good that we left with a good taste in our mouth this year."
Did you know you can watch NFL Red Zone right from
www.dcstands4.com
? Just click on the LIVE STREAM tab, select "show all content" if the browser asks you to and allow flash.
To watch the LIVE #Cowboys games, even if it's not on in your area, follow #DCstands4 on Twitter as the stream links can change weekly.
Jerry Jones says win in final game trumps position for higher draft pick
Reviewed by
Tzuki
on
9:00:00 AM
Rating: