Dallas Cowboys New And Notes: More From Jerry Jones, Dallas Loves Aaron Donald
Jones says Garrett's focus next season will be defense - Tom Orsborn, San Antonio Express-News
The reports continue on the two and a half hour interview Jerry Jones gave on the Cowboys Bus Extraordinaire. He is apparently changing the assignment for his head coach.
"He will have a lot more time spent on defense than he will on offense," Jones said. "We want his input on defense."
For some reason, this quote (about the possibility that the team may have to part ways with DeMarcus Ware if the cap issues can't be resolved) was interesting to me. It seemed oddly - thoughtful for Jerry.
"The easiest thing in the world is to change and go look for something new, something fresh, something being a style, a player, that kind of thing. It's easy to make that decision. Now you have to, while you are sitting there saying that, 'OK, where do I go from here?' And what type of player am I going to have out there? You have got to roll the clock forward and see what life is like when you line up against the Giants."
It is a different world than it was when Jerry and Jimmy put the Cowboys on top of the NFL world.
"You can't do today what I did today in '89 because of contracts and caps," Jones said. "The system will automatically create about a third turnover, automatically. But it also creates contractually for most clubs, creates a situation where you cannot just strip it. You couldn't even field a team with the hits against your cap by cancelling your contracts."
This is a fun article about the 40-yard dash and how people don't understand what it really means, plus a whole lot of info on why almost everyone thinks they are faster than they really are. You won't learn anything about the Cowboys if you read it. But you will be a bit smarter about football and measurables. Plus it has that neat video of Jadeveon Clowney outracing Johnny Manziel.
Now that the NFL combine is here and everyone is glued to the NFL Network watching the combine on television, I always think it's worth bringing some reality to all the couch warriors out there who think they could break a 5.0 in the forty.
Newsflash -- you can't.
Not even close.
I've run this article multiple years, but it's always worth bringing a dose of reality -- and humility -- to the masses when the NFL Combine rolls around.
Speaking of Jadeveon Clowney, I know he is out of the question for the Cowboys, but look at this picture. I mean, dang.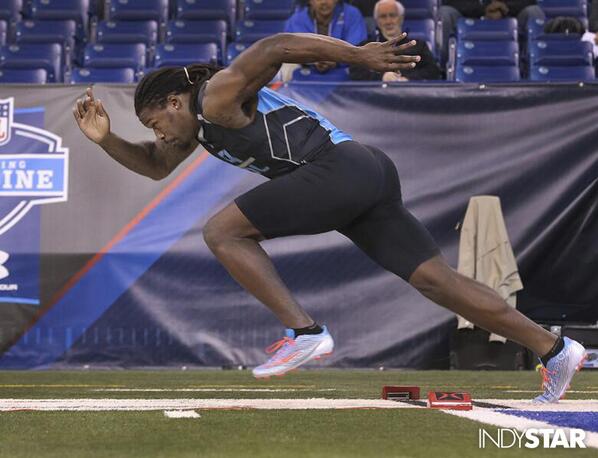 While Clowney stunned with his time, the player everyone here is watching was doing some impressing of his own by running a 4.65 40 - at 285 lbs.
Even when that one's inevitably rounded down a bit, that's still stretching the laws of physics. When you multiply mass times acceleration, it will make Donald a high pick anyway.
Defensive tackle Donald brushes off small talk - Tom Orsborn, San Antonio Express-News
So the word is out on Aaron Donald, who is not longer just fan favorite here at Blogging The Boys. Suddenly everyone is seeing his talent and the way he fits Rod Marinelli's defense almost perfectly. And he rather approves of the idea he might be a target for the Cowboys.
With defensive tackle and 2013 sacks leader Jason Hatcher likely to be lost in free agency, several mock drafts have Dallas taking Donald 16th overall, a prospect that suits him just fine.
"I would love to play for anyone, but it would be great to play for them," Donald said. "I love the way they play up front (in the 4-3 scheme). They like the three-technique to just get off and make plays. They like him to penetrate. I feel like I will fit that scheme great."
Tony Pauline is picking up on the Donald-to-Dallas meme.
Word at the combine has the Dallas Cowboys going defensive front seven early and often in the draft. Word is Aaron Donald is a possibility for the team in round one.
Some headlines, and proof that a good writer can figure out how to combine a couple of elements to guarantee interest, even if it really isn't relevant.
The Dallas Cowboys don't figure to be in play for the Johnny Football sweepstakes, but club VP Stephen Jones raved about the quarterback in a radio interview.
While Clowney and Donald were the dual stars of the DL action, there are some other names you might want to know.
Eathyn Manumaleuna could be a guy that would most likely be taken on the third day in that fourth round. When you watch him on tape, he is a relentless guy when it comes to chasing the ball, but that is not all he can do. I feel like he has a little Tyrone Crawford in him, maybe not as quick but at the point of attack, he is not going to give up much.
Mike Mayock is not a big fan of Clowney, so this may reflect that a bit. But it is still something nice to read.
"I will put this day up ... with any defensive tackle [at the combine] in the last 10 years," Mayock said. Given Donald's weight, Mayock said his time in the 40 was "just as impressive" as Jadeveon Clowney's stunning 40-yard clocking. Mayock knows some scouts are worried about Donald's "lack of length and short arms" -- Donald is 6-foot-1 and his arm length is 32 5/8 inches -- but he discards those negatives. "He's as disruptive as can be," Mayock said.
A slightly different take on how drafting for need will lead to big problems.
In the years immediately following Jimmy Johnson's departure from Dallas, the Cowboys thought their roster was loaded enough on talent to draft more based on need than based on talent.
It was a mistake when the Cowboys were great.
It is still a mistake now that the Cowboys are mediocre
This is something you might want to bookmark while you are trying to determine what the numbers from the Combine mean. Bob Sturm goes back and pulls up the numbers from some current Cowboys players for comparison.
This is getting to the point where the same articles can just be run year after year, because things play out the same way, it seems.
"At the end of the day, all 32 teams are figuring out that this is how you build a football team, through the draft," Jones said Sunday on SiriusXM NFL Radio. "It's obviously well documented of our cap issues. In our mind, they're not huge issues. They're ones that we'll deal with and we'll certainly digest and get through at the end of the day."
Dallas Cowboys New And Notes: More From Jerry Jones, Dallas Loves Aaron Donald
Reviewed by
Mr. DCStands4
on
12:00:00 PM
Rating: