Cowboys QB Dak Prescott isn't rattled by bad game because he's had worse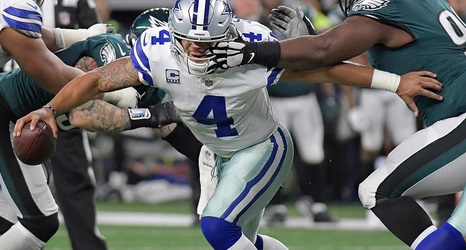 Dak Prescott is in just his second NFL season. But he gets it.
If he plays long enough in this league, the Cowboys quarterback is going to have some bad nights. Perhaps even worse than Sunday night's 37-9 implosion versus rival Philadelphia at AT&T Stadium.
But Prescott insists his confidence isn't shaken. He can even look at the seemingly worst of his three interceptions Sunday and think maybe, maybe if he had put more oomph into the pass, he still could've delivered it to Dez Bryant. The tipped ball intended for Terrance Williams wasn't his fault. The poor throws and shaky decisions, well, he can work on those. And it's not like he's had many bad games since he entered the league in 2016.
But Prescott remembers the last time he had a line like he did Sunday. It was Nov. 2, 2013. He and the Mississippi State Bulldogs fell 34-16 to Steve Spurrier's South Carolina.
As he did on Sunday, Prescott had three interceptions and lost a fumble.
That's essentially where the comparisons end for Prescott though, who allowed he wasn't himself that day for the Bulldogs. His mother, Peggy, died of colon cancer the next day. Prescott had, for the first time, been unable to speak with her or text her in the week leading up to the game.
Prescott is still confident the Cowboys can respond to the blowout losses the last two weeks, in which they've been without left tackle Tyron Smith and running back Ezekiel Elliott.
Smith has a chance of returning Thursday, while Elliott still has four games remaining in his suspension by the NFL for alleged domestic violence.
Prescott's not fooling himself about the urgency of the situation. The Cowboys' playoff hopes could be on the line on Thanksgiving night against the Chargers.
Prescott will have to be better, and he knows it.
l
Cowboys QB Dak Prescott isn't rattled by bad game because he's had worse
Reviewed by
Unknown
on
1:00:00 PM
Rating: