As Cowboys' leader, Dak Prescott is more about actions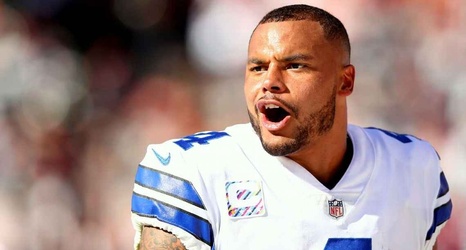 Whatever room Dak Prescott walks into, he instantly fits in. It can be with some of Dallas' top business leaders or some of the greatest players to ever play for the Dallas Cowboys. He can get the pulse of the room and handle the spotlight, the way he does on game day, or sit back in the shadows and listen.
The most comfortable place for him, though, is the Cowboys' locker room. His voice carries weight but his actions carry more notice.
Prescott's reaction to last Sunday's 27-7 loss to the Atlanta Falcons has not been about how sore he was after taking eight sacks. It was how he can improve so his line does not have to block as long.
At 5-4, the Cowboys' season is reaching a critical point. They already have lost more games than they did all of last season. They won't have Ezekiel Elliottagain until Christmas Eve. They might not have Tyron Smith or Sean Lee this week or for the next few games. And the Philadelphia Eagles, owners of the league's best record (8-1), will visit AT&T Stadium on Sunday.
"It's obvious that it's getting crucial and we know how important this game is," Prescott said. "I wouldn't say I'm talking any more or less than I have been or trying to rally these guys more. If you're a competitor, if you love what you do, if you love this game, you know how important it is to bounce back and respond after the performance we had last week. And you come to practice and you saw the energy and the way everybody practiced [Thursday], with the detail, not much has to be said."
A year ago, the debate was whether the Cowboys were Tony Romo's team or Prescott's team. At first, Prescott said it was Romo's team, but later said it was everybody's team. He was able to handle the pressures of his position as well as the standing in the locker room better than any rookie could have been expected to handle it.
This year, there is no debate. The Cowboys are Prescott's team, even if he has played in only 25 games.
"He is an outstanding leader," coach Jason Garrett said. "He has such a great spirit about him. He sets a great example for his teammates. He has a real even keel through success and through adversity. Those guys can look at him as a consistent figure. It's not only the guys on offense, but certainly everybody on the football team. It starts with the example he sets and what he is all about as a person. He is a physically tough guy. He is a mentally tough guy. That gets great respect from your teammates and from your coaches.
"More than that, he has a way to connect with guys, to bring out the best in the guys around him. That's not only the guys on offense but throughout our football team. That's ultimately what a leader's job is."
In addition to honing his skills on the field at Mississippi State, Prescott used the classroom to learn about leadership. He earned a bachelor's degree in educational psychology and a master's in workforce leadership. Eventually he hopes to earn a doctorate in psychology.
Those around Prescott describe him as having a natural leadership style, a charisma that draws people to him.
"Don't get me wrong, any time there's a story or something comes up and it's about Kobe [Bryant] or it's about these other great athletes and leaders, not only athletes but leaders around the world, I kind of take into their mindset and maybe use some of their techniques," Prescott said. "But I'm not necessarily studying these guys and figuring out what they're doing so I can use it. It's all individual and that's just within this locker room and getting to know my guys. ... I like to know my teammates as brothers and friends rather than just No. 84 or what position they play."
Not long after he was drafted by the Cowboys in the spring of 2016, Prescott found himself in the outfield of Dr Pepper Ballpark for a charity home run hitting contest next to Jason Witten's sons, C.J. and Cooper.
He quickly learned their names and every time he has seen them since, he makes sure to say hello.
"You really have to humanize yourself in a lot of ways and I think he does a good job of getting to know guys, keeping it simple, joking," Witten said. "But it's authentic. A real sign of a leader is that authenticity and it's real. And I think he does that better than anything else."
As Cowboys' leader, Dak Prescott is more about actions
Reviewed by
Unknown
on
5:30:00 PM
Rating: