Ezekiel Elliott Will Play vs. 49ers in Week 7 After Suspension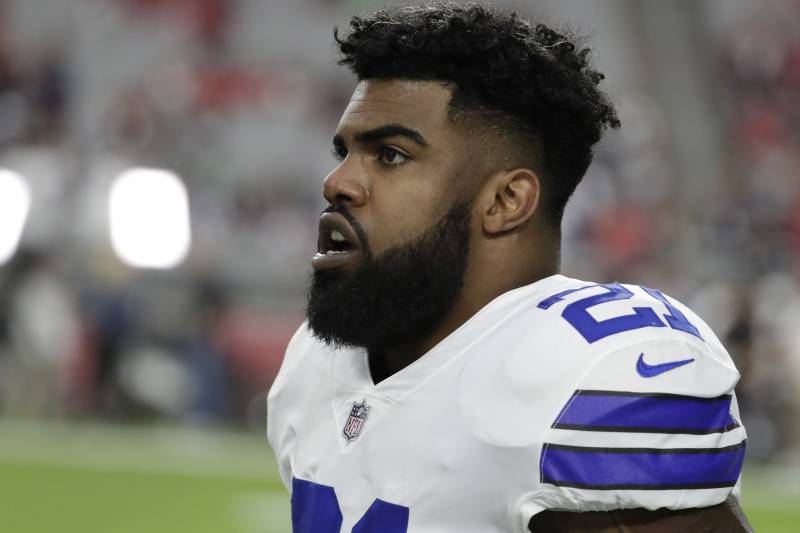 NFL Network's Ian Rapoport and CBS Sports' Will Brinson reported Elliott should be eligible to play for at least two weeks:
The NFL announced in August that Elliott would receive a six-game ban for a violation of the league's personal conduct policy. The decision came following a year-long investigation into allegations of domestic violence made by Elliott's former girlfriend Tiffany Thompson.
"[C]ommissioner [Roger Goodell] carefully considered the issues raised by the [NFL Players Association] on your behalf regarding witness credibility and alternative causation theories," an NFL letter to Elliott read. "However, in the commissioner's judgment, there has been no persuasive evidence presented on your behalf with respect to how Ms. Thompson's obvious injuries were incurred other than conjecture based on the presence of some of her bruising, which pre-dates your arrival in Columbus on July 16, 2016."
The 22-year-old Ohio State product released a statement about the decision on social media.
"I am both surprised and disappointed by the NFL's decision today, and I strongly disagree with the league's findings," Elliott said. "I recognize the distraction and disruption that all of this has caused my family, teammates, the Dallas Cowboys organization as well as my fans—for that, I am sincerely sorry.
"I admit that I am far from perfect, but I plan to continue to work very hard, on and off the field, to mature and earn the great opportunity that I have been given."
In September, the 2016 NFL rushing champion was granted a temporary restraining order by Texas district court judge Amos Mazzant, who took aim at the league's arbitration process.
"The NFL's actions demonstrate that from the very beginning of the decision-making process, a cloud of fundamental unfairness followed Elliott," he wrote. "Unfortunately, this cloud followed Elliott into the arbitration proceedings."
His ruling allowed Elliott, who didn't face criminal charges in the case, to play the Cowboys' first five games of the regular season before their Week 6 bye.
Last week, however, a 5th U.S. Circuit Court of Appeals panel in New Orleans ruled against the injunction that was allowing the Dallas running back to play. The decision cleared the way for the NFL to begin enforcing the suspension immediately.
The NFLPA filed for the new TRO in New York in an effort to once again halt the ban.
Looking ahead, the latest court ruling means Elliott is once again eligible to remain active while the legal process continues to play out. The league figures to follow a similar path to last time, appealing to get the order vacated, but a timetable for the next step is unclear.
Elliott, who's rushed for 393 yards and two touchdowns across five games, should continue to receive a lion's share of the work in the Cowboys backfield in the meantime.
source: blogging the cowboys
Ezekiel Elliott Will Play vs. 49ers in Week 7 After Suspension
Reviewed by
Anonymous
on
9:05:00 AM
Rating: